Our Services
We offer a complete range of services throughout the vinyl record production cycle. From factory planning and training up to refurbishing of your used equipment. Our service and maintenance personnel is quickly at your disposal. With our Performance Services we work with you to optimize your productivity in all areas of production.
Factory Planning
Are you planning to start up a new production in an empty building or looking for ways to improve your current production? We have the experience of setting up and running factories from specialized single press productions up to major three shift plants.
Our experienced team consists of production managers who worked for the major vinyl record production plants in the 1980´s and leaders of the CD and DVD production where state of the art interconnected production methods are used.
We take care of everything from each machine, periphery equipment and introducing you to our network of carefully chosen partners for the production supplies.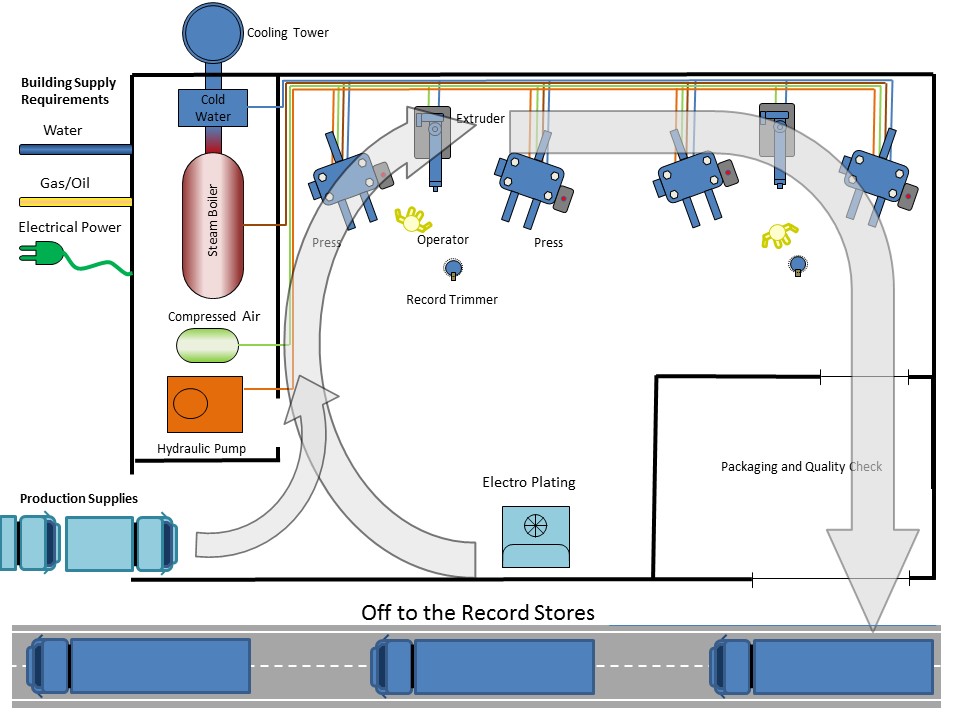 1
1) Production Supplies
Consumables like PVC Raw Material, Labels, Packaging etc need to be in constant good
quality. We can set you up with our network of carefully chosen partners and let you
profit from our knowledge.
2
2) Electro Platting
We can provide you with all needed equipment for in-house electro plating. However, in most cases
we recommend to buy electro plating services since it is not the easiest part of making a record.
3
3) NEWBILT Production Equipment Platting
The NEWBILT Duplex System is the heart of the production. The installation spot is crucial for a
smooth running production cycle. Operators need enough space to move in between the
extruder, the presses and the record trimmer. But not only the production procedures are
important – energy is too! The better the spot – the more energy is saved. This reduces the
environmental impact and safes you money.
4
2) Quality and Packaging
In order to achieve a thoroughly good quality, checks are important. The room should be quiet
and separated from the humming production shop floor. Packaging then demands a clean and
tidy work place.
5
Periphery Equipment
Producing records needs some periphery equipment. Installation planning, tube routing etc.
are the key of factory planning.
6
Hydraulic Pump: Each Duplex System comes with a hydraulic pump that provides the
necessary hydraulic power to create the huge forces needed to operate the presses
7
Compressed Air: Needed for operating actuators and cleaning. We took special attention to
design our machinery in such a way that you can use a cost effective and standardized air
compressor.
8
Steam/Water Supply: We offer a fine tuned Steam/Water supply. In close cooperation with
our partners we fine tuned the interaction of our machinery, steam boiler and water
cooling system. This not results in lower cycle times, but also easy installation and initial
commissioning. You just need a local plumber and electrician
9
Water Cooling System: As with the Steam/Water supply we created a perfect package with
our cooperation partner. Fine tuned and scalable for every plant size.
Production Personnel Training
On-site support of technical and operating staff.
Customized service: you determine the focus and duration of our support. We provide experienced support staff to assist your manufacturing crew know-how transfer directly to your team at your production facility.
To ensure trouble-free production, the highest possible uptime and optimal quality we provide maintenance services.
Our maintenance programs improve productivity and cut unanticipated down-time, thus protecting your investment. They cover basic technical condition checks, fine-tuning your press and, if required, replacing wear parts.
Spare Parts
Quick and easy access to everything you need. Our spare parts are made with the same excellent quality as our machinery. With quick response and delivery, we keep your down times as low as possible.
Searching for parts for other makes? Contact us! Refurbishment of used equipment is where we started. Our quality spare parts are the top choice for more and more customers.
Refurbishment and improvement of used equipment
Our refurbishment program can be tailored for your needs. No matter what machine and in which condition: We can make your production equipment run again. We offer a range from simple checks, through cleaning and tuning, right up to full refurbishment in our factory in Germany.
Old Machine: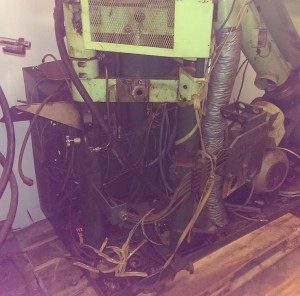 Refurbished Machine: